As our first post-reopening semester in Russia winds down, we would like to comment on what we've experienced so far and what we anticipate for our spring 2022 semester. Next year, SRAS plans to run all programs in Russia – including those in Moscow, St. Petersburg, Vladivostok, and Irkutsk. We will continue to monitor the situation on the ground carefully and make adjustments as needed.
This article will focus primarily on Russia. A future article may focus on other SRAS locations.
Travel to Russia from the US 
Differences from the pre-COVID era began before students arrived.
First, there are fewer international flights. Finding convenient and affordable flights to Russia was more difficult this year. The main consequence of this was students arriving across multiple days rather than within our usual arrival window on a single day. This meant multiple orientation sessions to help students settle in quickly, rather than our usual group session.
For spring 2022, we expect some improvement in the flight situation with the opening of US borders to Europeans and the opening of Russian borders to more European countries creating more demand for international flights.
Second, PCR testing requirements are in place. All travelers must take a PCR test within 72 hours of arriving to Russia. While not required of other visitors, students must take an additional PCR test upon arrival to present when they check into the student dormitory. This is facilitated by testing centers at the airport and our students are provided with instructions on how to access these. An express test currently runs about $35-40 at current exchange rates and tests are available in about two hours. We expect this requirement will remain in place for spring.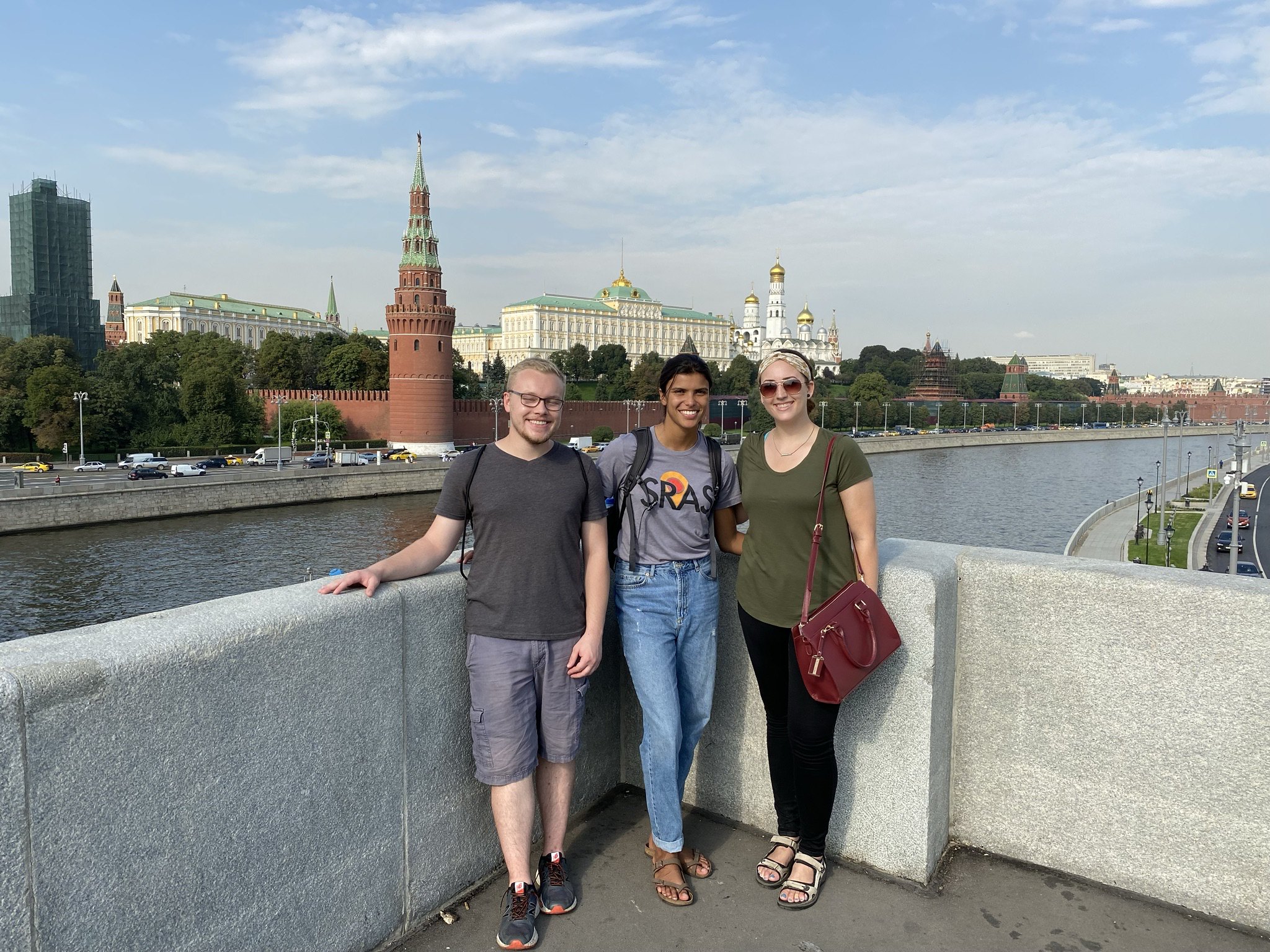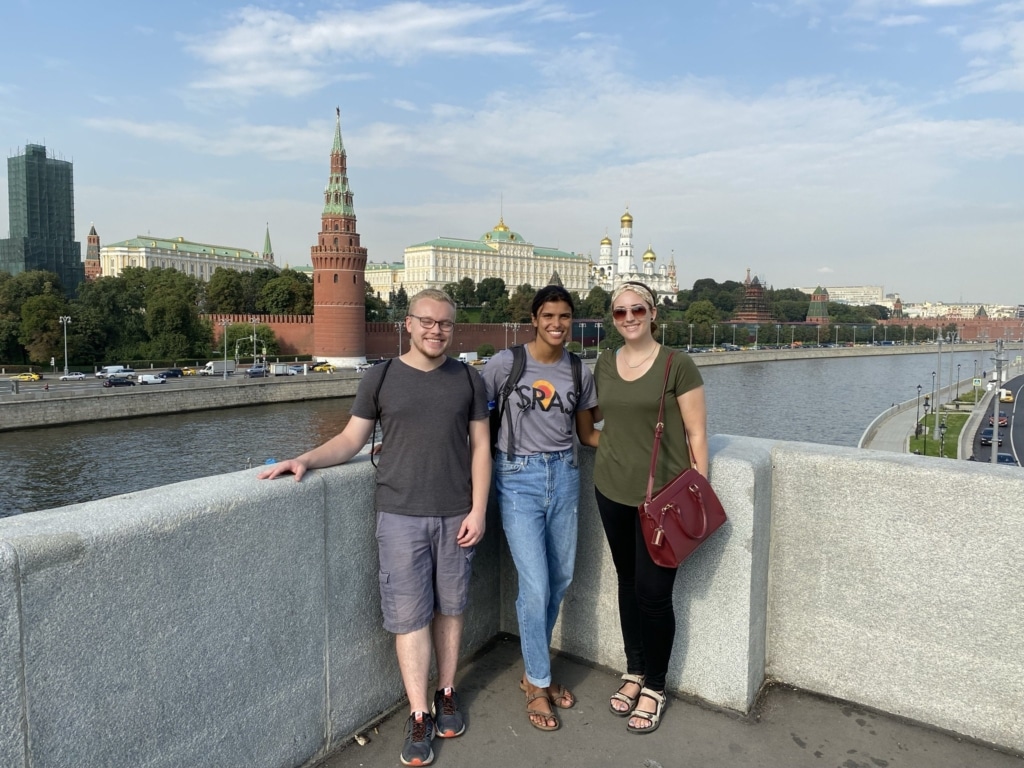 Classes and Studying
Most universities in Russia are running a mix of online and in-person classes. Students report that both types have proven to be high quality and enjoyable. Students also report that they have used the added flexibility of online classes to see more of the city, often attending classes from cafes or university common areas.
We are alerting students to expect the possibility of online, offline, or mixed instruction this spring.
"Lockdowns" and City Life
Russia's cultural institutions have largely continued operating through most of the pandemic with masking, social distancing, and mandated reduced attendance required by the state. This has made purchasing tickets in advance for some museums and theatres imperative, especially for those venues that are particularly popular or small.
"Lockdowns" in Russia have been relatively light. People have still been free to leave their homes at all times and, with the exception of a first lockdown early in the COVID era, parks and other outdoor public areas have remained open. Most federal-level actions have been limited to declaring "non-working days" – effectively extending Russians' paid vacation time. Unless closure is mandated locally or regionally, an organization can remain open during those days.
It is important to note that restrictions, lockdowns, or other measures can vary by city or region.
For example, since October 28th in Moscow, all "non-essential" organizations have been closed or have moved to remote work. Restaurants are still open for delivery and takeout, but do not offer seating. All retail stores are closed, except those whose offered inventory is 30% food or essential goods. Museums and theaters remain open by QR code only. Starting from November 8th, all restrictions affecting students will be lifted except for the QR code requirement for museums and theaters.
St. Petersburg has had a similar "lockdown" since October 30th. After November 8th, most of the city will reopen. However, over the rest of the month, QR codes will be phased in for most businesses and organizations, save for grocery stores, pharmacies, and a few other essential services.
QR Codes for Foreigners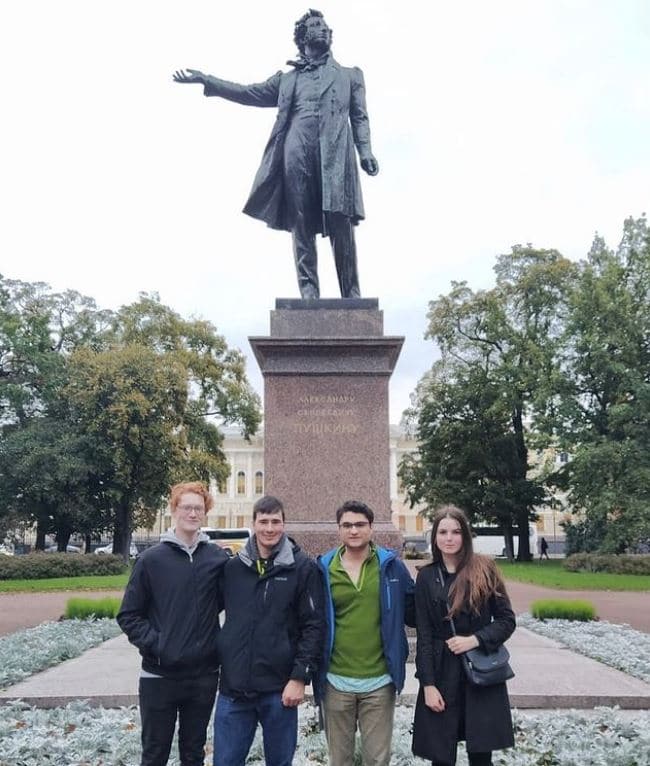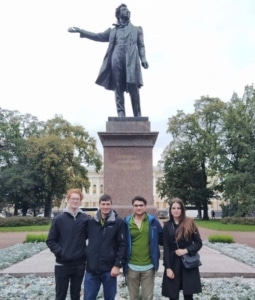 QR code policies, including how the codes are given and enforced, can differ from region to region and from city to city. Generally, however, you can only get a QR code if you have been vaccinated with a vaccination approved for use in the Russian Federation – or with a PCR test from a Russian-registered clinic.
This means that SRAS students, who were vaccinated abroad before arrival (as required for SRAS programs), are not eligible for QR codes based on their vaccinations, none of which are approved in Russia. Taking a PCR test (again, about $35 at current exchange rates) is one way to get a QR code, although one that is only good for 72 hours.
Interestingly, many westerners who travel frequently between the West and Russia have gotten vaccinated in one country and taken a single shot vaccine (like J&J or Sputnik Lite) as a booster in another to get vaccination records valid in Russia and the West. Again, while NOT an absolute workaround, it may be something to consider as booster recommendations become more prevalent globally. Interested travelers should consult with their doctors.
Cultural Programing and Immersion
While we hope that the current restrictions will be lifted by spring semester, we will be looking at ways to adjust our cultural programming should things like QR codes still be required and still be unavailable to those with vaccinations from abroad. We have always strived for the more non-traditional and experiential cultural experiences and we are confident of our ability to provide students with cultural immersion even with a restricted environment, should it persist.
Domestic Travel in Russia and Regional Travel from Russia
Russia's public transport and domestic travel networks, including rail and air transport, have all run during the pandemic, with increased social distancing and masking requirements. Hostels, hotels, and AirBnBs have also remained operational throughout, with the exception of a brief period at the beginning.
Domestic travel has always been popular with our students while abroad. This semester has proved no different. Students have explored Kazan, Petrozavodsk, and Irkutsk, navigating the local restrictions and regulations in each of those cities.
The main challenge is regulations that differ from city to city and even organization to organization. Careful planning and a relaxed and flexible approach are key these days!
We are generally discouraging students from engaging in independent regional (cross border) travel while abroad primarily because of potential border closures and constantly changing requirements.
SRAS is adapting our travel-intensive programs to match conditions in the destination countries and border crossing requirements. This primarily impacts the Central Asian Studies and the Identity and Conflict in the Post-Soviet Space programs.
Health and Safety
SRAS requires that all students be fully vaccinated at least 14 days prior to the start of a SRAS program. We also encourage students to wear masks when in indoor spaces and especially when in crowds. Students should follow local guidelines and requirements.
Unrelated to COVID, the US Embassy in Russia has also greatly reduced the services they offer (due to a staffing reduction caused by an ongoing diplomatic spat with Russia). However, emergency services such as replacing lost passports are still available. Further, SRAS remains confident in its ability to support students including in emergency situations.
SRAS students should otherwise maintain SRAS health and saftey protocols.
Conclusions
COVID has certainly made study abroad and travel in general more challenging. Not only is more planning required, but an ability to adapt to changes and the unexpected is very important. We all learned this over the course of this pandemic, but where it may have faded in daily life, it still affects travel. The good thing is that once you settle into your new environment, like at home, you are able to enjoy your new surroundings largely as you would have before.