SRAS is an international team. Each of us has personally studied within the Russian educational system and traveled within Eurasia, giving us first-hand knowledge of this specific geographic area. We've built relationships and a network of contacts that help our students not only with academic programs, but also to travel, seek jobs, pursue hobbies, and more – and not only while abroad, but long after the program ends. We at SRAS are here to help you realize the goals you set for yourself.
Want to Meet Us in Person?
Excellent! We'd love to! Check this page for our conference attendance and/or how to invite us to your campus for study abroad fairs or classroom visits.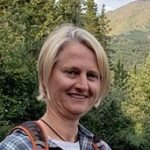 Renee Founder and Program Director
Renee first visited the Soviet Union in 1990 to study at MGU after graduating from Boston University with a BS in Biomedical Engineering. After working at a technical translation company in Boston, she returned to Moscow in 1992 for permanent residence until 1998. During that time she worked in the Russian financial markets and eventually founded SRAS as well as co-founded Alinga Consulting Group (now merged to Bellerage Alinga). Renee is now based in Woodside, CA with her family and continues to travel frequently not only to SRAS sites, but throughout the world and with eyes open for new ideas in education abroad.
Just yesterday my student successfully defended her honors thesis on environmentalism around Lake Baikal, a project that would not have been possible without the fieldwork that she conducted on her SRAS study abroad program in Irkutsk. I hope to see more such projects in the future and will keep directing students to SRAS programs!
Visiting Assistant Professor
Macalester College