Study Abroad in Uzbekistan
Study abroad in Uzbekistan means all of Uzbekistan, with its long and rich history, is your classroom. For many centuries, Central Asia was the center of the economic and intellectual world. Through trade and conquest, the civilizations of this land absorbed Persian, Greek, Arab, Turkic, and Slavic influences. These influences are still visible in the many massive monuments and delicate traditional arts.
Travel to Uzbekistan means being transported to a great, forgotten empire filled with sights unlike any you have ever seen. Uzbekistan offers wonder, inspiration, and a fresh look at history and the world around you. SRAS programs in Uzbekistan emphasize in situ lectures and experiences, immersing you in history and culture. You will be well supported by SRAS and its partners in achieving your study abroad goals.
- Featured Study Abroad in Uzbekistan -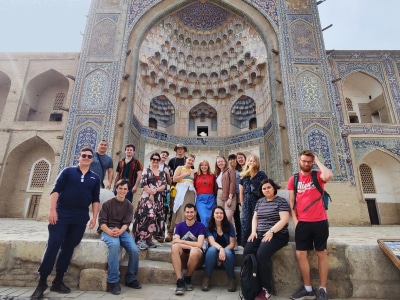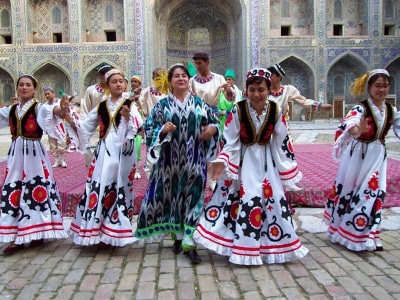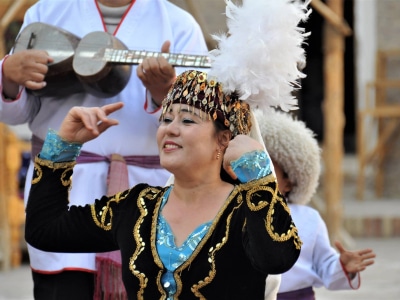 How Much Does It Cost To Study Abroad in Uzbekistan?
Your total costs can be divided into three main categories:
Program: Each program page outlines pricing information. SRAS offers a variety of program choices of varying length and cost.
Cost of Living: Most Students report spending about $40-60 per week for food and entertainment. Many spend much more on souvenirs and art to take home.
Airfare: Our International Airfare Guide can give you some pointers on getting the best price for tickets to and from your study abroad in St. Petersburg.
What's It Like to Study in Uzbekistan?
SRAS programs in Uzbekistan are held onsite in multiple locations with participants staying in centrally located, usually-boutique hotels. Each location has a different feel to it – Tashkent is more modern while Bukhara and Khiva are well preserved cities with histories running back several hundred years. These and other sites provide a comprehensive picture of the country.
SRAS will provide you with materials on the resources you'll need on the ground. And, if you ever need help with anything while abroad on one of programs, your onsite coordinator will be there to help.
Talk to an Expert about Study Abroad in Uzbekistan
Studying abroad is a big decision. You should make sure that your experience will advance your academic, personal, and professional goals. We encourage you to
contact us
and ask any questions you may have.
We also run regular info sessions as part of our free events series. Find a free
info session
that fits in your schedule! SRAS takes your educational goals seriously and we look forward to hearing from you!
At Stetson, we've used SRAS to arrange all of our student study abroad trips for the past five or six years. During that time we've sent dozens of students on summer- and semester-long programs in Moscow, St Petersburg, Nizhny Novgorod and Irkutsk. In every interaction I've had with them, SRAS has been prompt, reliable, knowledgable, courteous and quick to lend a hand when needed.
Professor and Director, SPREES
Stetson University