Studying in Georgia means studying in a truly unique geography and culture. Mountains, valleys, rivers, and ocean divide Georgia into many unique cultures, languages, and variations in cuisine. The Georgians are famous for their hospitality and their culinary traditions, centered around healthy ingredients (superfoods!) and unique flavors. Meals are memorable events in Georgia.
Whichever SRAS course you choose to study abroad in Georgia, out-of-classroom experiences and special lectures and workshops will introduce you to the local culture, history, and current events. You will be well supported by SRAS and its partners in achieving your study abroad goals.
- Featured Study Abroad in Georgia -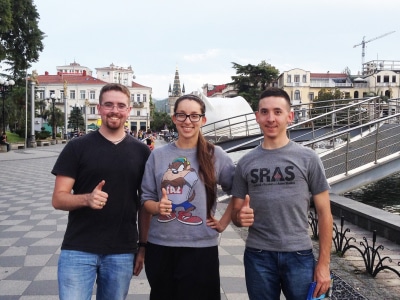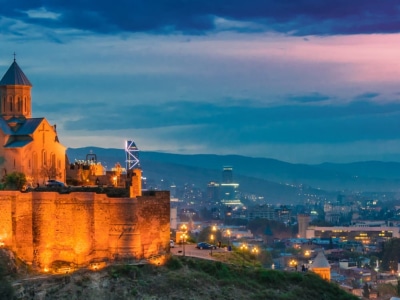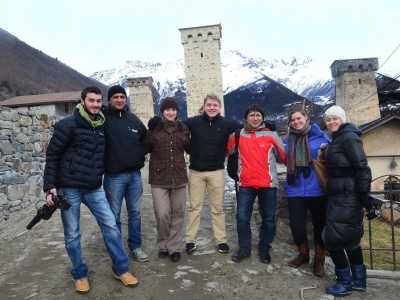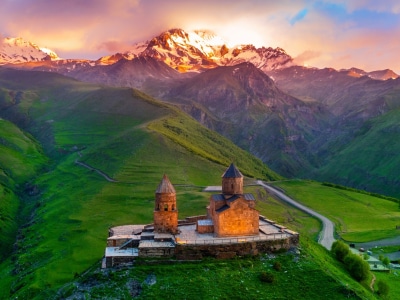 *SRAS RSL programs in Georgia may be customized to optionally replace all or some of your Russian training with Ukrainian or Georgian.
Other study opportunities
may include joining faculty led programs, spring break programs, and more. We also offer
online courses and free virtual events
. See our full lists of study abroad offerings below or
contact us
about faculty-led or other custom options.
How Much Does It Cost To Study Abroad in Georgia?
Your total costs can be divided into three main categories:
Program: Each program page gives its specific pricing information. SRAS offers a variety of program choices of varying length and cost.
Cost of Living: Most students report spending between $60-90 per week in Georgia for food, transport, and entertainment. SRAS regular programs in Georgia include housing and an extensive cultural program that includes some travel within Georgia.
Airfare: Our International Airfare Guide can give you some pointers on getting the best price for tickets to and from your study abroad in Georgia.
What's It Like to Study Abroad in Georgia?
SRAS partners with Novamova, a private school in Georgia. The Novamova campuses are centrally located in their respective cities.
Batumi and Tbilisi are both green, friendly cities, full of parks and museums. You'll find incredible food and great hangouts here at very reasonable prices.
Georgia is a small country, full of diverse, beautiful landscapes and friendly people. Your program will not only steep you in academic study, but also show you as much of the country as possible. You can see several write-ups of
some of these trips on our companion site SRASStudents.org
. You'll couple learning with incredible, delicious adventures!
We will be releasing Guides to Living in Batumi and Tbilisi in the near future that will help you find the resources you'll need on the ground to live a summer, semester, or year abroad. And, if you ever need help with anything while abroad on one of programs, your onsite coordinator will be there to help.
Talk to an Expert about Study Abroad in Georgia
Studying abroad is a big decision. You should make sure that your experience will advance your accademic, personal, and professional goals. We encourage you to
contact us
and ask any questions you may have.
We also run regular info sessions as part of our free events series. Find a free
info session
that fits in your schedule! SRAS takes your educational goals seriously and we look forward to hearing from you!
At Stetson, we've used SRAS to arrange all of our student study abroad trips for the past five or six years. During that time we've sent dozens of students on summer- and semester-long programs in Moscow, St Petersburg, Nizhny Novgorod and Irkutsk. In every interaction I've had with them, SRAS has been prompt, reliable, knowledgable, courteous and quick to lend a hand when needed.
Professor and Director, SPREES
Stetson University