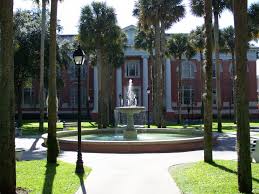 Beginning spring semester 2017, Stetson University will act as a new partner institution for The School
of Russian and Asian Studies (SRAS).
Stetson University is a private, liberal-arts based comprehensive university with four colleges and schools in Central Florida, United States, with the primary undergraduate campus located in DeLand. In the 2017 US News and World Report's guide to America's Best Colleges, Stetson ranks as the 5th best regional university in the South.
Stetson's Program in Russian, East European and Eurasian Studies (S.P.R.E.E.S.) trains students to analyze and interpret the territory, people, history, language and cultural practices of the Eurasian landmass from a multidisciplinary perspective.
SRAS is a US-based organization, in existence since 1996, which is comprised of an international team of consultants and advisors who develop and promote study abroad in Russia and Eurasia. SRAS's programs and structured to be practical experiences that prepare students for careers in government, academia, and business by encouraging them to understand the modern societies of the
Eurasian landmass – their languages, histories, and cultures, as well as the current challenges and opportunities they face.
SRAS and Stetson have long worked together to send Stetson students abroad as an integral part of their education. The new partnership between the two institutions is thus built on a well-established relationship.
Stetson will serve as school of record and advising partner for several SRAS programs. These include Policy and Conflict in the Post-Soviet Space, Society, Business, and the Arts (St. Petersburg), Coexistence and Religion, and Russian as Second Language (Ukraine, Georgia, and St. Petersburg locations). Stetson University will act as the school of record for these programs and will issue an official transcript reflecting academic work through these programs. As an accredited institution, this academic credit is easily transferable to any other accredited institution in the United States.
SRAS hopes this new relationship will encourage more students to study abroad and make practical career-oriented study abroad more easily integrated to US university education. SRAS additionally provides support packages for all programs and offers local internships and educational travel as options for some of the above programs. See the individual program pages for more information.
After over a year of discussions between Stetson University and SRAS, Provost Noel Painter approved the partnership. An academic advisory committee of Stetson faculty members, including Dr. Mayhill Fowler, Assistant Professor of History and Director of S.P.R.E.E.S and Dr. Michael A. Denner, Professor of Russian Studies, and other members of the University program, will coordinate with SRAS on existing and new programs.
The proposed relationship between Stetson and SRAS offers mutual benefits. Stetson will benefit from the increased exposure and recognition provided by partnering with one of the best private enterprises for study abroad in the US. As the school of record for SRAS, Stetson will achieve distinction in the competitive study abroad landscape. Through evaluation and development of SRAS's creative and quality programing, Stetson will foster and develop relationships with universities and educational institutions throughout Russia, Central/Eastern Europe, Central Asia, and the Caucasus. This network will prove invaluable to students seeking further opportunities for work and study in the region, for faculty seeking professional development in teaching and research, and for promoting Stetson as a leader in global awareness, citizenship, and education.