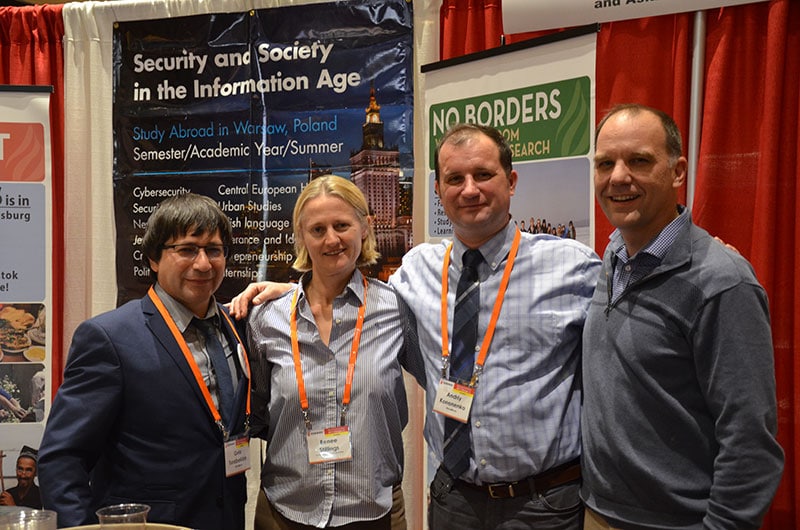 Dear Colleagues,
Each year as we prepare for the 4-day whirlwind of awesomeness that is called "ASEEES," we review the conference program with a touch of woe: panels ranging from "Numbers and Meaning in Russian History" to "Emotions and Symbolic Order in Contemporary Russia" to "Siberian Rock" – so many fascinating, diverse, and important topics, while we, your humble friends at SRAS, are mostly shackled to our booth in the Exhibit Hall.
As difficult as it is to miss out on most of the panels happening in rooms and halls so close, each year we are energized and engaged by the insightful discussions you bring to OUR table. A gargantuan THANK YOU to everyone who stopped by the SRAS table during the conference – bringing the heart of the conference to us.
For those who know us well, the first question we get at the conference is usually, "So, what's new at SRAS?" — because, of course, there is almost always something new. This year, we got to tell you about some of the new directions we are taking many of our summer study abroad programs. Bouncing ideas off you guys and hearing your opinions is always an important part of doing what we do.
Because of our extensive online presence and wide program offerings, many people envision SRAS as a much larger organization than we are. Most people we meet who have heard of us but have never met us before are often surprised to learn this. We are a small, but growing and enthusiastic team of individuals who do what we love: provide educational material and opportunities for those as fascinated with Eurasia as we are.
Speaking of our team, many of you are aware we recently welcomed a new member to our fold, Dr. Rachel Stauffer, who will be taking on projects related to syllabi and course development as well as helping us to continue developing our now numerous student-powered sites. We are so excited to have her with us!
Another favorite part of any conference is putting names with faces. If you didn't have a chance to stop by and meet us at ASEEES in Chicago, you have many opportunities in the future, including at AATSEEL 2018. Dr. Stauffer, newest SRAS member, is the AATSEEL Conference Manager – so we might be difficult to avoid this year. 🙂
In conclusion, please continue to be awesome. Please continue your important and fascinating research. And most of all, please continue to find us in the Exhibit Hall. Our promise to you is that there will ALWAYS be something new at SRAS.
Lastly, thank you ASEEES organizers for all the work you do to make it a great conference. We are already looking forward to next year!
Best wishes,
Lisa, Renee, and the rest of the SRAS Team